Drama camp reinterprets classic tales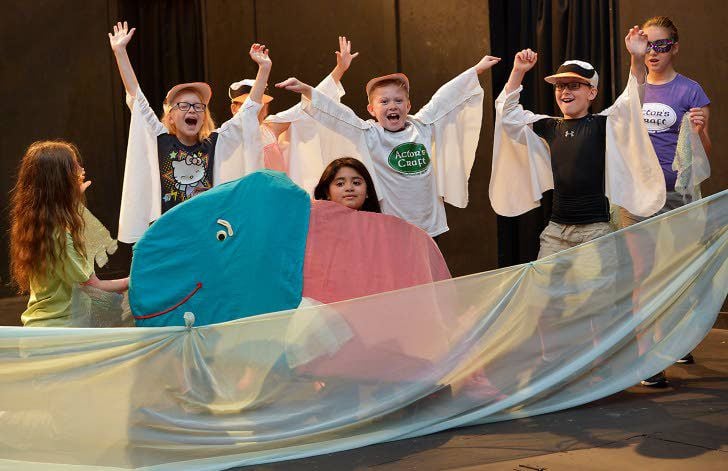 Give a group of children five days to rework a classic fairy tale and what do you get? Actor's Craft founder and director Maureen Cashin Bolog calls it organic art.
The drama camp will present Irish legend "Children of Lir" 11 a.m. Friday (July 17) and Saturday (July 18) in the Rhode Center for the Arts, 514 56th St.
"We start with a public domain story and we create a play out of it, so we don't have to worry about copyrights. We start on Monday and by Friday we have a play. The kids help write the script, so the story can change," Bolog said. "The kids come up with fantastic ideas. It's really fun. … This is our ninth year doing this."
"I do transformational theater, so every child can play several roles and lead roles will be played by several actors," she added. "I'm an acting coach, and I know a lot of camps are about just getting the kids up and doing a play and they really don't learn so much about acting.
"My goal is to teach them how to use their body and voice when acting. You have to be dynamic and have vocal variety."
Bolog uses similar techniques when training executives in the art of public speaking.
A swan song The "Children of Lir" revolves around Medieval nobleman (Lir) and his four children — one daughter and three sons. After the death of his wife, he remarries an evil sorceress jealous of his love for them. Out of frustration, she curses them to live as swans in various lakes.
"The swans can talk and sing beautiful songs," Bolog said. "The children are swans for 900 years."
To end the spell, they would have to be blessed by a Christian monk or die on the spring equinox, the only day they return to human form. Each year on the first day of spring, the swans fly over the ocean so that when they turn into human form they will plunge into the sea and die quickly. However, they are saved by a giant fish after telling it their story.
Meanwhile, Lir is despondent over the loss of his children and in madness wanders far from the castle and discovers the singing swans. He feels happiness in their presence but does not know they are his children.
The costumes and set are not meant to outshine the young performers, so each actor will wear an Actor's Craft T-shirt during showings. To mimic swan feathers, Bolog plans to use white sheets cut to resemble layers. For water and flight, some of the children will wave see-through blue fabric.