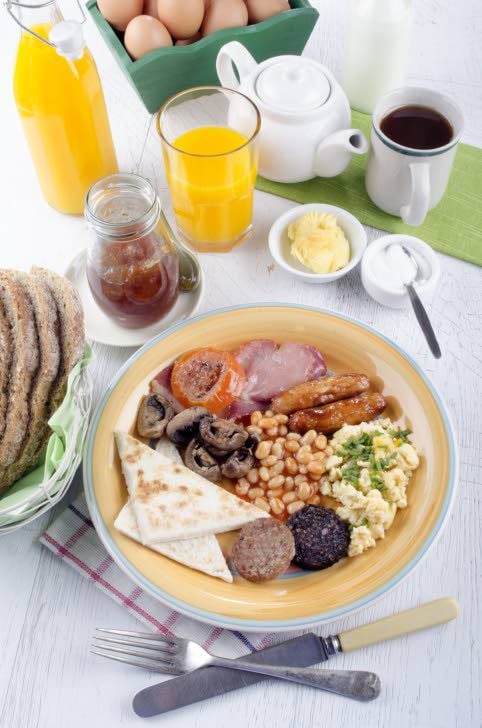 In rural Ireland, as in all rural areas, breakfast is hardy and plentiful. It is vital for the energy and nutrition of protein and starches, and plentiful due to the presence of eggs, potatoes and pork products.
Urbanites also enjoy what is known as either a Full Irish breakfast or, in the north, Ulster Fry.
Traditional, or Full Irish, breakfast includes fried eggs, rashers of thick bacon, Irish sausage, black pudding, fried potatoes and a side of pork and beans.
Northern Ireland celebrates breakfast with Ulster Fry for the fact that everything on the plate is fried. In addition to the elements listed above, Ulster Fry includes a fried flat potato bread known as potato fadge, or farl.
For Kenosha resident Maureen Cashin Bolog, just the mention of Irish breakfast conjures up happy memories and family stories.
"I've eaten many an Irish breakfast," says Cashin Bolog, the daughter of two Irish-born parents. "We went to Mass and then had breakfast."
For Cashin Bolog's mother, Nora Cashin from County Donegal, breakfast — especially Sunday breakfast — was a special meal.
Cashin Bolog's well-recalled breakfasts included Irish sausage (Winston brand); white pudding and black pudding, eggs and thick-cut bacon, fried tomatoes and fried potatoes. She prefers white pudding (a sausage made from pork, oatmeal, bread or potato fillers and seasonings) to black pudding (the same with the addition of animal blood).
The breakfast was completed by Irish soda bread with marmalade and tea, preferably Barry's (an Irish tea) or Lyons, Cashin Bolog said.
"We had breakfast every day but I have such a nice memory of Sunday mornings," said Cashin Bolog.
The potato component was always important to Cashin Bolog's father, Sean, born in County Leitrim. To accommodate, on special occasions Nora Cashin would make "boxtie," a form of Irish potato pancake fried in butter.
So important was Irish breakfast and Ireland to Sean Cashin, that after his wife died, his family took him on a trip back to his County Leitrim. Maureen reports that eating Irish breakfast in the castle where his own father had once been a gameskeeper was a particular highlight for Sean.
Even those not from the Emerald Isle might want to make Irish breakfast the most important meal of the day — especially on St. Patrick's Day.
You say flatbread, I say farlAdd a bit of Ireland to your breakfast table with a side of Irish flatbread called farl.
POTATO FARL
1/2 pound or about 3 cups of potatoes, peeled, cooked and still hot
1/2 teaspoon salt
2 tablespoons butter, melted
1/2 cup flour
Mash or rice potatoes while hot until there are no lumps. In a bowl, mix the potatoes well with the salt; then add the melted butter and mix well again. Add the flour, working in enough to make a light and pliable dough.
Turn dough out onto a lightly floured surface and roll into a rectangle about 9 inches long, 4 inches wide and about 1/4 inch thick. Trim the edges until you have a neat rectangle. Cut diagonally into four or six triangles.
Heat a dry griddle or frying pan to medium-hot. Fry the farl triangles until golden brown on each side, about five minutes a side.
Put the finished farls aside on a plate covered with a dishtowel to keep warm and moist.